Invisalign in Flushing, MI
Are you considering getting braces for you or your teen? If so, you'll be happy to hear that braces aren't what they used to be. There are far more orthodontic options these days than ever before, which gives our Flushing, MI, dental team the opportunity to offer discreet and nearly invisible orthodontic alternatives including Invisalign. Invisalign has become an incredibly popular way to straighten adult and teen smiles. Here's what you should know about getting Invisalign.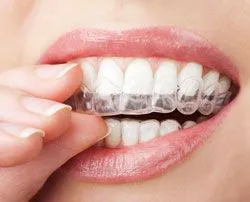 Aligners Are Made from the Highest Quality Material
While aligners might look like they are simply made from plastic, these orthodontic aligners are made from an FDA-approved flexible thermoplastic known as SmartTrack®, which is free from BPA and other harmful chemicals. SmartTrack® ensures a tight fit around the teeth, which puts gentle and continuous pressure on the teeth to move them gradually into their ideal position. SmartTrack® is also reported to be far more comfortable than other non-SmartTrack® aligner systems.

You'll See Results Quickly
What is more motivating than being able to see improvements in your smile in just a few short months? Since aligners are completely transparent, you will be able to watch as each new aligner shifts your teeth slowly into the ideal alignment. As you watch your new and improved smile take form, this can be the added motivation you need to make sure you continue wearing your aligners as much as possible each and every day.
We Can Show You What Your Future Smile Looks Like
During your consultation, our Flushing, MI, dentists will be able to show you what your smile will look like after Invisalign treatment thanks to a simulator. This gives our patients a better idea of what results they can achieve with Invisalign, so they can decide whether this treatment is right for them. We can also show you the gradual changes and shifts that will occur throughout your treatment.

You'll Enjoy Fewer Check-In Visits
With traditional orthodontic treatment you'll need to come into the office about every 4 weeks to tighten the braces and check the progress of your treatment, but with Invisalign, we won't need to tighten your aligners, so you won't need to come in nearly as often. Plus, these check-ups will be pretty short!

Flushing Dental Care is ready to help you get the smile you know you deserve.
If you are interested in getting Invisalign from our Flushing, MI, family dental team, then call us at (810) 733-2700 to schedule a no-risk consultation!
Ready for a new smile?
Call or Email Today To Learn About
Free Consultation